Laparoscopic Surgery
Laparoscopic surgery is a minimally invasive surgery using only a few small cuts to perform a procedure. There is less pain for the patient and shortened hospital stay.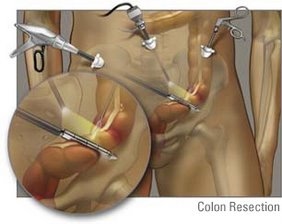 Laparoscopic surgery is used to operate on a number of conditions. Diseases like Crohn's disease, Ulcerative colitis, colon cancer, diverticulosis, constipation, and polyps can be managed with this technique.
At Colorectal Consultants, we offer prompt and friendly service to all our patients. Dr. Tarazi treats the following disorders. You may click on the links below to expand on each subject. This will take you to the official American Society of Colon and Rectal Surgery website for up-to-date educational information.
Minimally Invasive/Laporoscopic Surgery
Laparoscopic Surgery – What is it?
Minimally Invasive Surgery Expanded Version