Colonoscopy
During a colonoscopy, a specially designed flexible tube is inserted into the colon. This examination is vital in the location and removal of polyps, diagnosing cancer, finding the cause of intestinal bleeding, and following patients with previous polyps or cancers. The examination is performed with sedation to maximize patient comfort.
It is important to undergo colonoscopy regularly to prevent cancer and diagnose other diseases.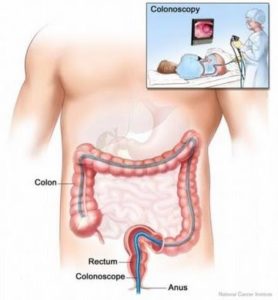 At Colorectal Consultants, we offer prompt and friendly service to all our patients.  You may click on the links below to expand on each subject. This will take you to the official American Society of Colon and Rectal Surgery website for up-to-date educational information.
General
The Colon: What it is, What it Does
Colonoscopy
One procedure we know is vital to continuous good health is colonoscopy. It is important to schedule colonoscopy routinely after age fifty or sooner if certain conditions apply. To make this process easier, located on this page is a link to the different forms you will need to fill out in order to schedule the procedure.